The Fiery Command Workstation is designed for professionals to process complex print jobs with extreme precision. The platform unifies print job management in a single interface, enabling Fiery users to control any combination of printing devices from one location and use the system's advanced tools and features.
The version 6.7 bring great new features, on this new release has introduced a bunch of powerful features that are designed to make your work much easier and more efficient.
Some of the new features included in this new version:
Job search across all servers 
Operators can now more easily locate jobs anywhere in a print shop. They can search for jobs across all connected Fiery servers. Accessed from the simple search function, jobs can be found based on the following criteria: 
Title 
Job Status 
Date, Time
User
Size
Server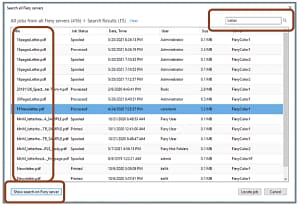 Users can sort the resulting list by any of the columns in the search window. Double-click a job to exit the search window, and automatically highlight that job on the relevant Fiery server.
Choose "Show search results on Fiery server" to go to that search result on the Fiery server the highlighted job is on. In the search window, users can clear the search box to start a fresh search across all connected servers.
The "Search all Fiery servers" feature could also be used to show all jobs submitted by a particular user, or how many jobs are processed and ready to print across all Fiery servers. Watch the video to learn more.
Enhanced job import for Fiery XF
To import jobs more quickly onto Fiery XF servers, we've improved the Import Files dialog box. Now, it only shows the options needed to send a job to the correct printer and workflow, with the correct media selected. This change reduces clicks, and potentially reduces errors when importing print jobs.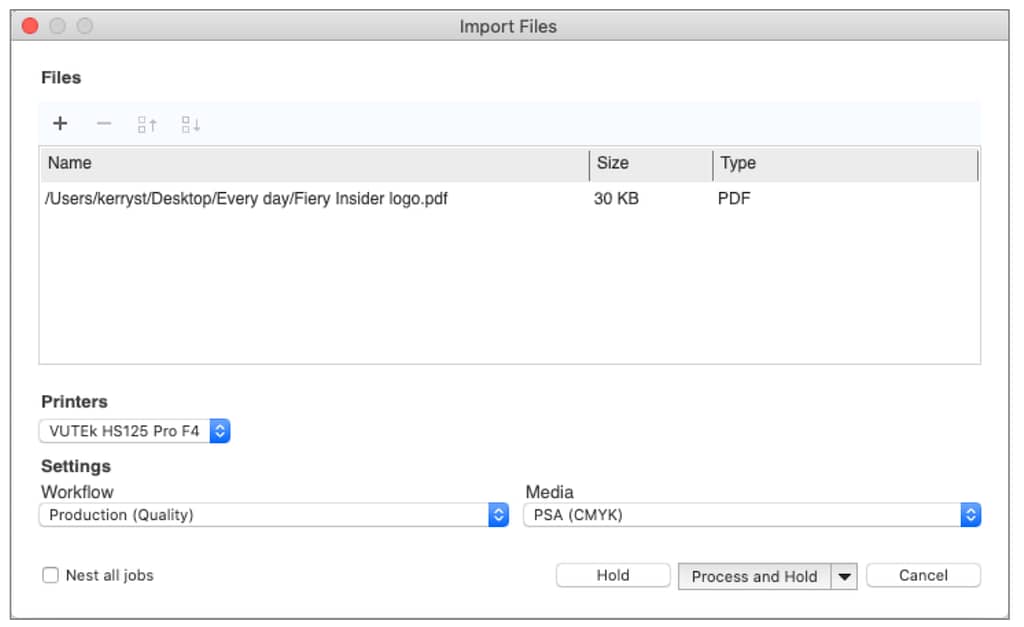 Fiery ImageViewer enhancements – Page level controls in ImageViewer
With the integration of Raster Preview controls in ImageViewer, users now have a single interface for adjusting color and performing simple page-level edits in RIPped files. This greatly improves efficiency and usability.
New functions in ImageViewer include:
Reorder pages in thumbnail view

Display thumbnails as sheet surfaces
Delete pages
Duplicate pages
Select all pages
Move pages between documents (cut/copy/paste, drag and drop)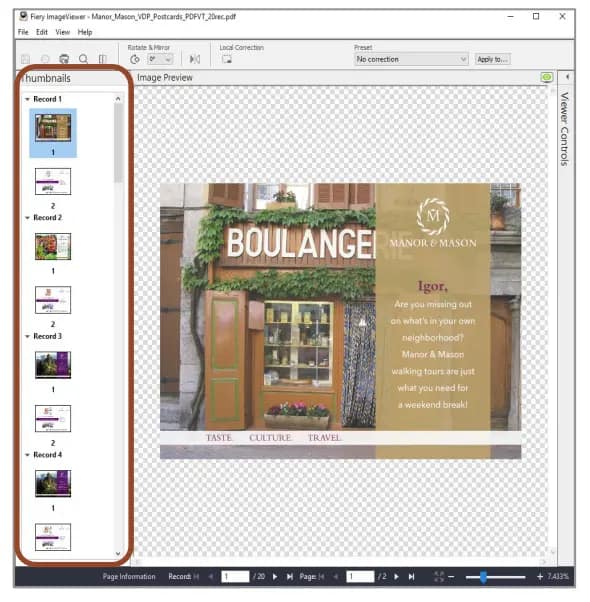 Can preview VDP jobs as record sets, though reorder/delete/duplicate page functions are not available.
Users with a license for one of the Fiery Graphic Arts Packages1 can access this unified interface by right-clicking on a job and selecting either Preview or ImageViewer.
Fiery ImageViewer enhancements – Measure tool and ruler
ImageViewer now provides an option to show a ruler on the X and Y axis of the Image Preview pane. Users can configure the ruler to show different units.
A new measure tool allows users to measure the distance between two specific points on the page. This is especially useful for high-speed inkjet customers when setting image shift or offsets.
Fiery ImageViewer enhancements – Measure tool and ruler
Hovering over the Page Information pane now shows page (Document (high-speed inkjet only)) and substrate (Media) sizes.

Fiery Spot Pro enhancements – Optimize all colors
It's now easy to optimize any set of spot colors for a specific profile, using a subset of swatches. For example, now users can choose to optimize one or more spot color groups, or all spot colors, in just one step. This saves time and makes it easier to ensure that spot colors are optimized for a desired profile and media.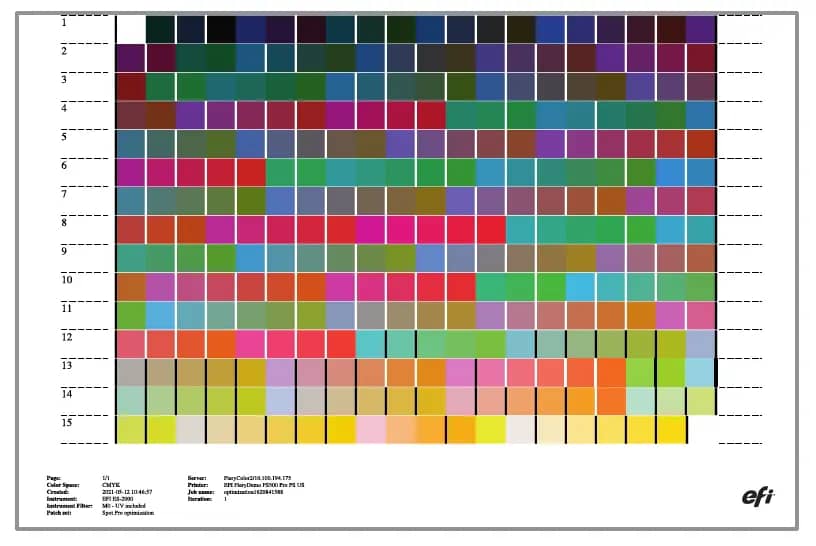 Fiery Spot Pro enhancements – Spot color optimization report improvements
The new, expanded Spot Pro spot color optimization report provides additional detail, both about individual colors and at the group level. New details include:
Average and maximum estimated delta E (dE) values across the group of optimized spot colors
Percentage of colors that fall within 1, 2, or 3 dE 
A breakdown of L*a*b values, optimized L*a*b values, and dE values, for each optimized color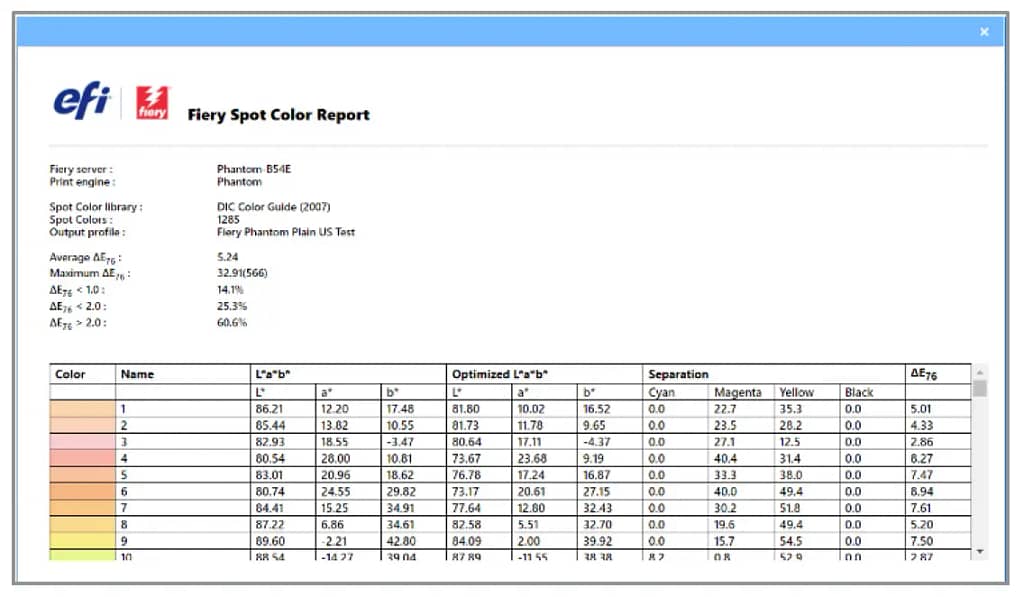 Fiery Spot Pro enhancements – Variations for multiple spot colors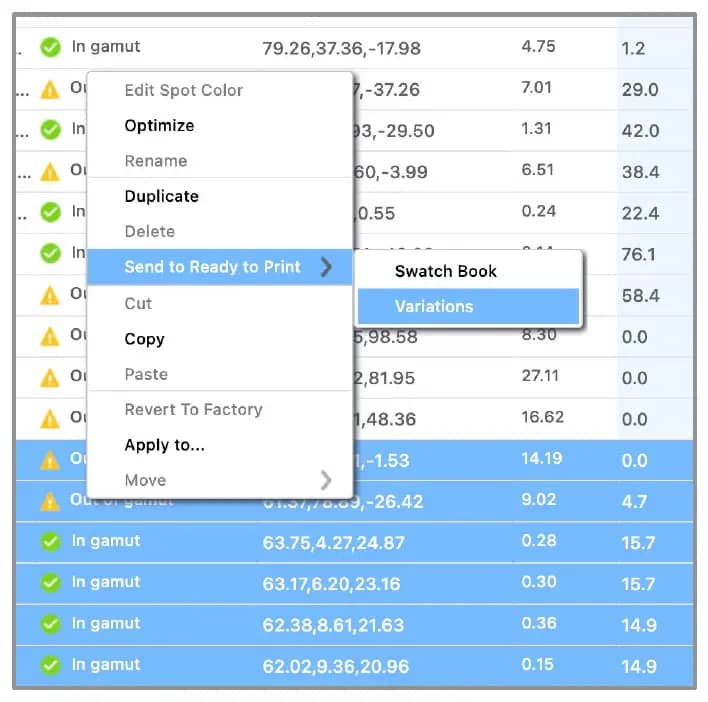 The variations feature in Spot Pro allows users to visually select a better match to a desired spot color. With it, users can view and select variations for any number of colors within one or more groups. Operators can also choose to print variations for multiple colors on the same sheet.
Available for Fiery servers driving high-speed inkjet printers
Fiery Spot Pro enhancements – Additional variation swatches
Users now can choose to print up to 70 different patches for spot color variations. This provides a broader visual range of colors to choose from to match a desired spot color, and is ideal for users who prefer a visual approach to color matching.
Available for Fiery servers driving high-speed inkjet printers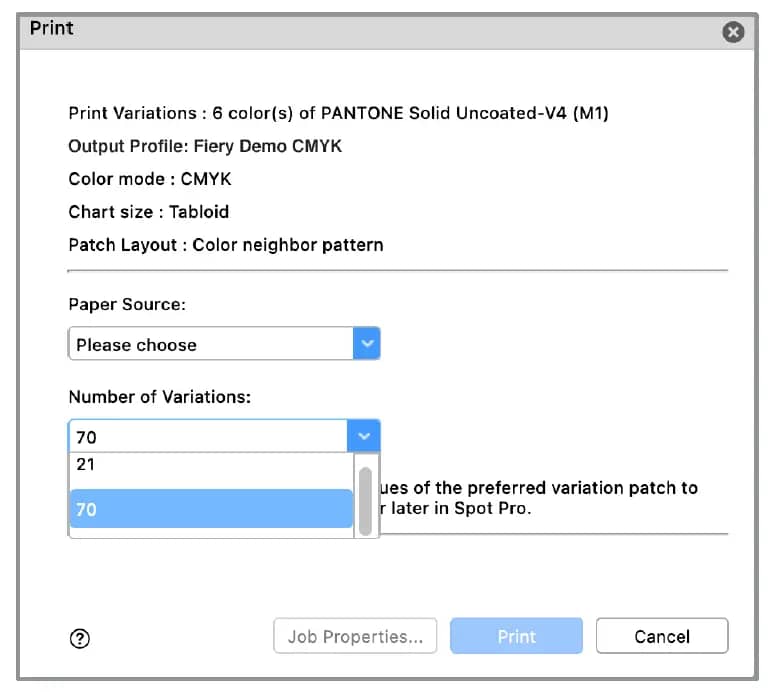 Fiery Spot Pro enhancements – Usability improvements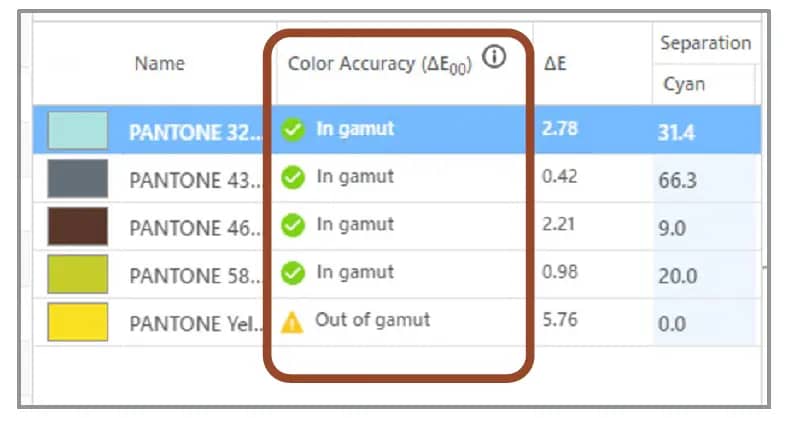 Color accuracy (whether a color is in or out of a printer's gamut) is now separate from the dE column. This allows users to more quickly see the gamut status of a specific color at a glance.
L*a*b editing controls are now also easier. Now, there's a single L*a*b value to edit for custom colors. And for colors in default libraries, L*a*b values are locked and not editable (though they can be edited if the color is copied to a new group).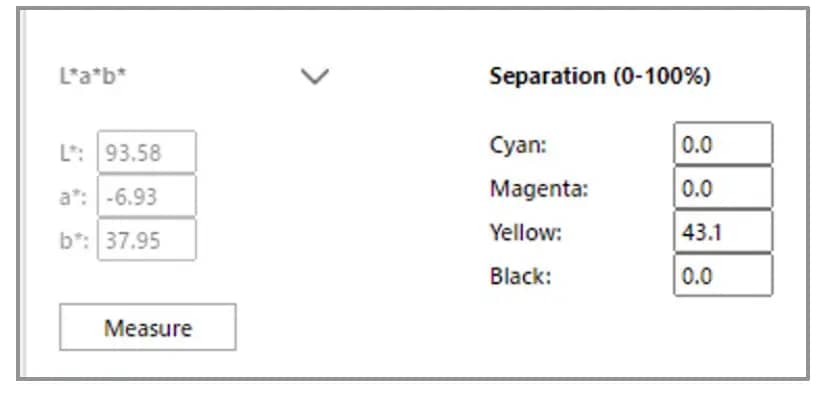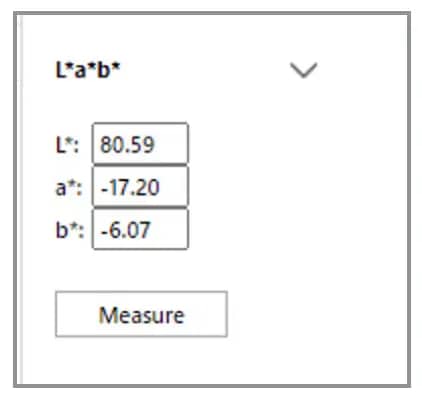 The assignment of tags to jobs can now be automated. Tags can now be applied to jobs within the Job Properties dialog box, and therefore saved as part of a Server Preset. Selecting a Server Preset with tags included as part of a Fiery Hot Folder, Virtual Printer, or within Fiery JobFlow, and when importing jobs, means that jobs will arrive at a Fiery server with a tag or tags automatically applied.
Tags "connect" Fiery print jobs to non-Fiery parts of production, processes, people, customers, etc. or any other custom attribute useful to a job's journey through production.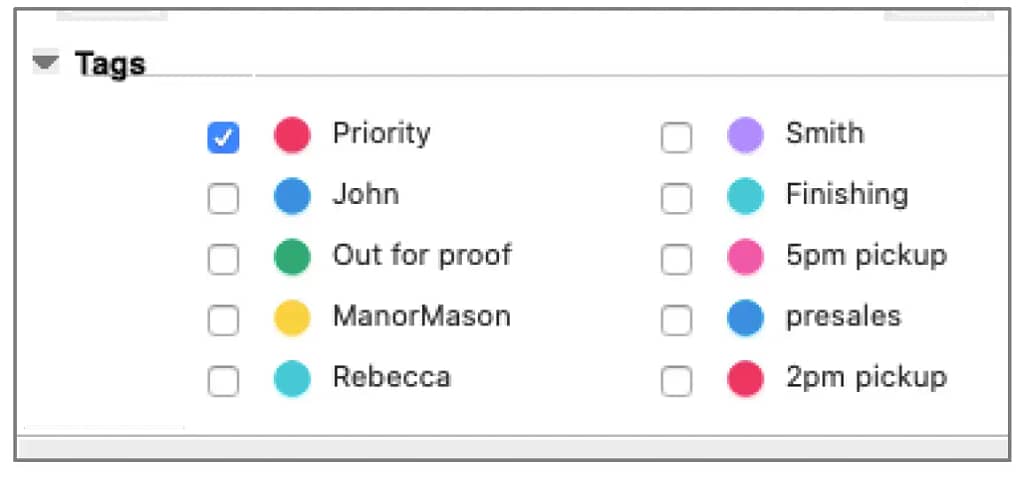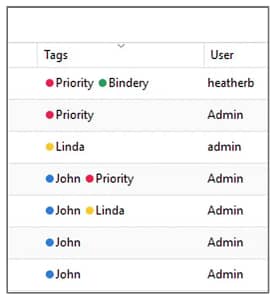 Tag information is now visible in a dedicated column within the Job List. Once a user adds the column, they can sort the list in ascending or descending alphanumeric order. Where multiple tags are assigned to a job, they are displayed and listed in the order they were applied to a job.
This feature is only available for Fiery servers running cutsheet printers.
Fiery Hot Folders support for Fiery FreeForm Plus files
Customers with FS400 and newer servers, using Fiery FreeForm Create, generate Fiery FreeForm Plus files. Now they can submit those files directly to the Fiery server from FreeForm Create, or save them as a standalone file package (.ffp).
They can also now use these standalone .ffp packages with Fiery Hot Folders to automate FreeForm Create job submission to the Fiery server. This makes applying attributes like Server Presets or imposition templates fast and efficient.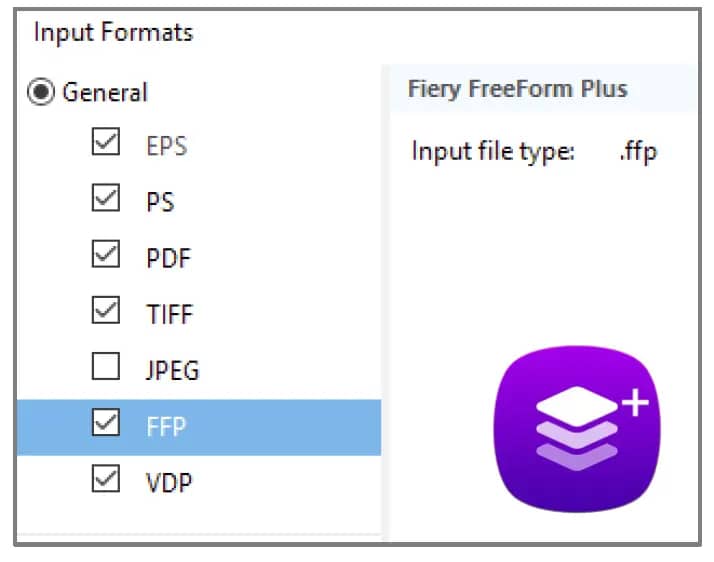 Marcelo has been with EFI since 2014. He has more than two decades of experience in the printing industry with prior experiences in leader's companies, always dedicating himself to bringing more innovation and knowledge to the sector.
Graduated in Marketing from Universidade Anhembi Morumbi and with a strong technology background, He is always pursuing new growth hacking things that can improve our product and services in a smarter way. Just obtained a certificate from Insper in Digital Marketing and Artificial Intelligence for Decision Making.