The award is in recognition of the continuous work in favor of education in the sector.
Every year, CEdMA – Computer Education Manager Association – makes an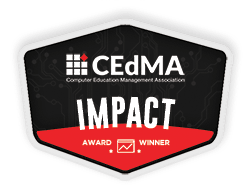 extensive assessment of the educational systems of American technology companies and how they innovate or impact their users. In the year 2021, the recognition for the highest Impact among education users was given to EFI's Fiery Professional Certification program. This same award, in previous years, was directed to other tech giants as Dell, Google, and SAS.
The team of EFI Fiery Education is very happy to know that their efforts, to create training with their own content and relevance for the entire digital printing industry, were recognized by one of the most influential educational institutions in the United States. And most importantly, this is good for you in the segment!
Knowledge is never too much.
EFI's Fiery Professional Certification, along with Fiery Expert Certification for Cutsheet printers and Fiery XF Certifications for large-format or Display Graphics, create a value proposition and knowledge for digital print users, partners, and producers in the market.
The EFI Education team has a specific assessment for each type of course, from product simulations to the use of virtual machines, in which the end-user can test their knowledge, make their assessments, and even receive annual certificates.
Certifications are important to prove the knowledge acquired and demonstrate the high capacity of users. Fiery Professional Certification costs $250 per student, and Fiery Expert Certification costs $750, valid for 1 year. After this period, the student can renew a certification free of charge, until a deadline. If you miss this date, a renewal will cost $100 within the same year.
But the content is all free!
That's right, you read, all content is free.
If you, or your team, would like access to courses, simulations, How-To Guides, they are all available to registered users of the Fiery education platform at learning.efi.com at no charge.

Imagine that you need to train an operator to get the best out of your Fiery Command WorkStation. Simply take the course Fiery 220 v2: Creating Automated workflows with Fiery Server.
If you want to create repetitive impositions tasks for business cards or booklets, take the Fiery 451: Fiery Impose – Imposition for Print Production course.
If you already have several printing equipments and need to automate the process of receiving and verifying files in your prepress, check out the course Fiery 850: Fiery JobFlow Base.
You can benefit from the accumulated knowledge by EFI – recognized by CEDMA in 2021 – which is free and can be accessed by all users to mate a difference in your prepress staff.
Don't waste time, visit learning.efi.com now.

Works at EFI since 2015 and takes care of e-learning development and Fiery certifications. Its material is used by more than 6,000 students in the field of digital printing. Has more than 20 years of experience in the graphic industry with strong expertise in creating cross-media marketing and web-to-print. Holds a bachelor's degree in Systems Analysis and a postgraduate degree in Marketing and Digital Media from FGV.